Father's Day is fast approaching. It's a day full of love, family, friends and making the men in our lives feel as special as they really are. It's the day everyone stops to make that long overdue phone call home or hug their daddy's neck just a little tighter and letting it linger just a moment longer. It's a truly beautiful day.
Growing up I made my fair share of paper neckties, desk paperweights, and coupons for "Daddy-daughter dates;" all of which my dad graciously and lovingly accepted as tokens of my love and appreciation for him. Looking back I wish I had done so much more...
It has been over 3 years since losing my dad to suicide and the pain has yet to subside. I've had babies, changed careers and watched my family transform in ways I never could have imagined and for each event there has been an emptiness that ached in the back of my heart. Father's day is one of those events that brings bittersweet emotions for me. Josh has added phenomenal daddy to his list of incredible attributes and I love thinking of new ways to celebrate him on this day, but Father's day will always make me think of and miss my dad as well. And with those thoughts brings a painful realization that he is not here for me to give a bear hug or say "I love you."
This year I wanted to do something a little different for Father's day. Most of you know that I use Shutterfly for almost everything. Each year I've made Callie a book that is displayed at her birthday party and plan to do the same thing for Kellan. Here are some of my favorite books we've made over the years...
I am a very crafty person and LOVE scrapbooking, but lets be honest... having a husband, two kids, a career and spending time with friends and family often leaves little to no time to spend crafting, not to mention -- have you seen the prices of stickers and paper these days? EEESH! So I've turned to channeling my creativity with Shutterfly. There are SO many options for every holiday, event and person in your life and I love that you can create your own custom book or have them put your pictures in a book for you. We even used Shutterfly to create a book that we gave to our parents as our pregnancy announcement for Kellan (see above)!
I have an older brother and a younger sister that I adore with all of my heart. Each one of us had a different but incredibly special bond with our dad and we've each handled the loss differently. I know how difficult Father's day can be for me and can only imagine the depth of pain they feel as well, so this year I wanted to do something for them to make their day a little brighter and maybe help fill the void of our father's absence. This is where Shutterfly comes into play... I put together a book for each of my siblings with pictures of our dad and us throughout the years in hopes that placing these cherished memories into a permanent book will make this Father's Day a little more special and a little less painful for all of us.
To start, all you have to do is upload your pictures, choose a book size and then decide either to go through the custom route or to have your book created for you. Once your book is started you can add stickers and text wherever you'd like to make it more personal. I could get lost for hours making new layouts and playing with all of the fabulous stickers and captions there are.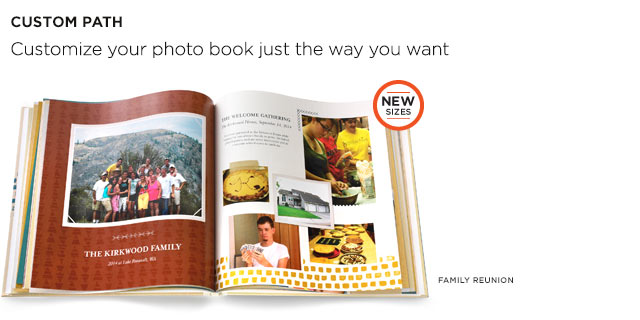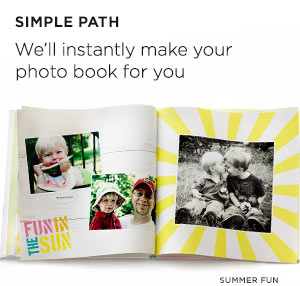 One of the best features is the ability to save your projects in your account (totally free, I might add!) over time. I love this because we've had family members see our books and say, "I really wish we had one just like this!" I love being able to say, you can! You and any loved one can order current and past projects with just the click of a button... It doesn't get easier than that!
Here is the finished Father's Day book...
So this year, as we take the time to celebrate all of the dads in our lives, my family will be embracing the memory of my dad. He may not be here in person, but his spirit lives on through us - through the precious memories that are forever etched in our hearts and minds. My hope is that this timeless keepsake can be a bright spot in an otherwise difficult day for my siblings and me.
Daddy - the pain of missing you will never get easier. Your bright smile and infectious laugh are something I think of everyday and I long to see and hear them more than words have the capacity to express. This Father's Day I promise to smile and embrace your life, your memory and the incredible father that you were. Thank you for always being there for me, pushing me to become a Godly woman and believing in me no matter how silly the dream. Tony, Athena and I will always have a hole in our hearts that cannot be filled in your absence, but we promise to continue holding onto the life we were blessed to share together. I love you, Daddy.